Today's guest on Grow! with Katie is self-taught garden designer, speaker, writer, and garden media personality, Linda Vater!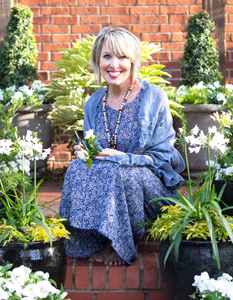 She has lived and gardened in Oklahoma City for the last 27 years. She designed, maintains, and now shares daily insights into the gardens at her historic, urban home, drawing daily inspiration from practical and metaphorical lessons of her garden.
She shares what she's learned with others through her weekly spot as the 'Garden Guru' on her local NBC affiliate KFOR News Channel 4 in Oklahoma City for the past 12 years.
Linda has a popular Instagram account with over 77k thousand followers. Her Instagram exposure, website, Facebook, YouTube and tv presence has earned her an enthusiastic fan base, who look to her for gardening and lifestyle inspiration on social media and in print.
Linda's gardens first hit the national gardening scene with an article about her potager, an ornamental kitchen garden, in 2007 when it appeared in an article of Southern Living Magazine. Her garden subsequently went on to appear in Southern Living a total of five times, and Linda later wrote for the publication, as well as HGTV Magazine and other local print media. Her spring garden was the cover story in Garden Gate Magazine in March 2015, and her summer garden has appeared twice in Oklahoma Magazine. Linda and her gardens were the focus of two articles she wrote for TerritoryOKC; one of them "The Soul of a Garden" was nominated for an award in 2017 by the Garden Writer's Association.
Linda is currently a spokesperson and media personality for the Southern Living Plant Collection, producing video and web content. She is also an influencer for other garden and lifestyle products.
"Linda is a completely self-taught garden designer and stylist, but claims to have an experiential degree from what she calls 'The Oklahoma School of Garden Heartache and Hardknocks', having gardened during record drought, wind, hail, tornadoes, ice, snow, and recent earthquakes. As of this writing, Linda and her gardens are still thriving and growing, beautifying her Oklahoma City neighborhood and community."
Watch this episode of Grow! with Katie LIVE with Linda Vater in her garden!