Today's guest on our special episode of Grow! with Katie on Instagram LIVE is Leah Penniman, Co-Director and Farm Manager at Soul Fire Farm!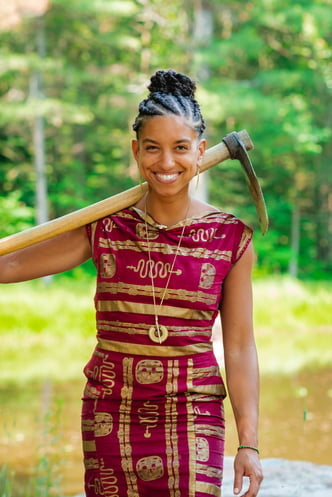 Soul Fire Farm is a community farmed centered around BIPOC (Black, Indigenous, and People of Color) committed to ending racism and injustice in the food system.
"We raise and distribute life-giving food as a means to end food apartheid. With deep reverence for the land and wisdom of our ancestors, we work to reclaim our collective right to belong to the earth and to have agency in the food system."
They bring diverse communities together on the healing land to share skills on sustainable agriculture, natural building, spiritual activism, health, and environmental justice. They are training the next generation of activist-farmers and strengthening the movements for food sovereignty and community self-determination.
"We are a survival and thrival ground where people impacted by oppression can reclaim our ancestral right to belong to land and to have agency in the food system. We are a multiracial, people-of-color-led team of activist-farmers drawing upon the wisdom of our ancestors to uproot oppression."
Their programs include sustainable farming and leadership training for people of color, strategic development support for grassroots activists of all backgrounds, a subsidized farm food distribution program for people living under food apartheid, food justice training for youth, and public education and organizing on equity in the food system.
Leah is also the author of Farming While Black: Soul Fire Farm's Practical Guide to Liberation on the Land.
"Farming While Black is the first comprehensive "how to" guide for aspiring African-heritage growers to reclaim their dignity as agriculturists and for all farmers to understand the distinct, technical contributions of African-heritage people to sustainable agriculture."
Watch today's episode of Grow! with Katie LIVE with Leah Penniman here!