Today's guest on Grow! with Katie is Layci Gragnani from Bushel and Berry!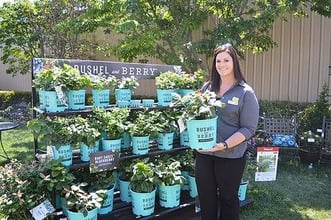 Bushel and Berry, one of Ball Horticultural's brands, is a unique collection of compact, ornamental and self-pollinating berry plants for the home garden.
Their products can be found in garden centers throughout the United States and Canada. On their website, they have an option to find the garden center nearest to you that carries these great berries.
On the website, they have also compiled a list of delicious recipes to try, from cocktails and mocktails to snacks and desserts!
"The Bushel and Berry Collection is completely changing the way we think about berry plants. They are breathtakingly beautiful and produce amazing edible fruit!"
This collection offers twelve different varieties to choose from:
Baby Cakes (blackberries)
Blueberry Buckle
Blueberry Glaze
Jelly Bean (blueberries)
Peach Sorbet (blueberries)
Perpetua (blueberries)
Pink Icing (blueberries)
Raspberry Shortcake
Southern Bluebell (blueberries)
Silver Dollar (blueberries – coming soon)
Midnight Cascade (blueberries – coming soon)
Sapphire Cascade (blueberries – coming soon)
There is something for everyone to enjoy!
Watch today's episode of Grow! with Katie LIVE with Layci from Bushel and Berry!