Today's guest on Grow! with Katie is Keven Espiritu of Epic Gardening!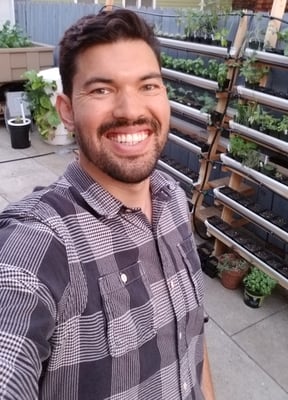 Kevin got into gardening in early 2011 with his first hydroponics setup. He lived in a condo so he didn't have space for a big backyard soil garden.
He learned about urban gardening and got hooked. He started to build all sorts of bizarre hydroponic systems and eventually, his friends and family started to comment and ask how they could make some of them on their own.
He started Epic Gardening to be able to teach others and also document his progress.
He now has a huge following on his Instagram, YouTube, Facebook and other social channels.
Kevin also wrote a book, Field Guide to Urban Gardening: How to Grow Plants, No Matter Where You Live: Raised Beds - Vertical Gardening - Indoor Edibles - Balconies and Rooftops – Hydroponics, which can be purchased on Amazon!
Today on Grow! with Katie we talked about some fast growing veggies, herbs to grow, and the best tips for starting out!
Watch today's episode of Grow! with Katie with Kevin Espiritu.