Today's guest on Grow! with Katie is Gordon Starr from the Delaware Center for Horticulture.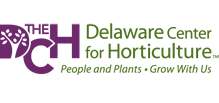 The Delaware Center for Horticulture's mission is to inspire individuals and communities through the power of plants.
Since 1977, the DCH has cultivated a greener community by bringing people and plants together. The work includes creating and maintaining the first Urban Farm in the city of Wilmington, creating and supporting over 40 community gardens, beautifying public landscapes, planting and advising on the urban placement of trees, and hosting community events and educational programs.
DCH is the only nonprofit membership organization in Delaware that mobilizes and inspires community greening statewide in urban and suburban environments. By inspiring an appreciation for improving the environment through horticulture, education, and conservation, they have become a leader in improving and beautifying communities by harnessing the power of their members, volunteers, and staff to go out and make a difference. With more than 600 active and dedicated volunteers annually, they have a tremendous amount of community support, which allows them to accomplish the impossible.
Check out their Calendar of Events to see what is going on near you!
The work of DCH strengthens the social fabric and builds more livable towns and cities by enhancing the environmental, economic, and aesthetic qualities of our cities and state. Working together, they create neighborhoods that are healthier, more attractive, and more ecologically sustainable.
To donate to the Delaware Center for Horticulture, click here!
DCH and Discover and teaming up to bring you their first-ever Virtual Gardens Contest! This contest, launching May 4, is open to gardeners and plant lovers of all ages and abilities to provide you an opportunity to show off. The contest runs until July 31, 2020, and all entries will be judged in August. To enter, simply complete this form and submit 5 pictures. Prizes will be awarded to the top three entrants in each of three categories: flower gardens, vegetable gardens, and houseplants. Photos of all the gardens we receive will be hosted on our website for everyone to enjoy and draw inspiration. For more information, visit thedch.org/virtualgardencontest.
Watch today's episode of Grow! with Katie with Gordon Starr of the Delaware Center for Horticulture!