Today's guest on Grow! with Katie is Farmer Nick! He is a "plantrepreneur", based in New York, who is passionate about all things green.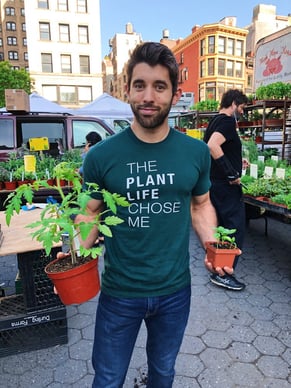 Nick's mission is to make the world more sustainable by giving people the knowledge and confidence they need to create their own green spaces.
"It's nature, not furniture", is something that Nick tries to teach people who are getting into gardening and bringing houseplants into their homes. He does "plant coaching" which allows him to assist people in picking the best plants for them based on their experience and living situations.
Nick takes advantage of social media by engaging his followers on his Instagram account and his website, teaching viewers all things green.
His latest goal is the Essential Farmers Project. Farming has never been more essential than right now during the current COVID-19 pandemic. He has teamed up with Greensulate, a green roof and urban agriculture company based out of New York City, to launch the project. Their goal is simple:
"Empower local farms and non-essential workers by connecting everyday people with paid and volunteer farm opportunities so that they can literally and figuratively put food on the table."
Check out his page to learn more about the Essential Farmers Project.
Watch this episode of Grow! with Katie!