Today's guest on Grow! With Katie is Doug Tallamy, a professor in the Department of Entomology and Wildlife Ecology at the University of Delaware.
He has authored eighty research articles and has taught Insect Taxonomy, Behavioral Ecology, Humans and Nature, and other courses for thirty-two years.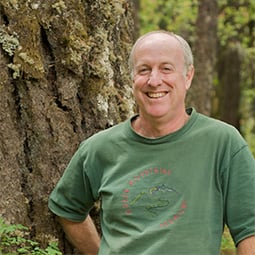 Tallamy devotes his time to research so he can better understand the many ways insects interact with plants and how such interactions determine the diversity of animal communities.
He also wrote a handful of books; Nature's Best Hope: A New Approach to Conservation That Starts in Your Yard, The Living Landscape, and Bringing Home Nature: How you can sustain wildlife with native plants. All of these can be found at http://www.bringingnaturehome.net/.
His extensive educational background includes:
Post-Doctoral Fellow in Entomology at the University of Iowa
D. Entomology at the University of Maryland
S. Entomology at Rutgers University
S. Biology at Allegheny College
He is also affiliated with many organizations including the Entomological Society of America, Ecological Society of America, The Association for the Study of Animal Behavior, the International Heteropterists Society and the Department of Biological Sciences at the University of Delaware.
Doug has gotten awards for his works including:
A silver medal by the Garden Writer's Association in 2008 for his book
The Garden Club of America Margaret Douglas Medal for Conservation
Tom Dodd Jr. Award of Excellence in 2013
We hope you enjoyed learning about Doug and what he does, as much as we did!
Did you catch today's episode live? Watch it now!