Today's guest on Grow! with Katie is houseplant expert and social media extraordinaire, Darryl Cheng!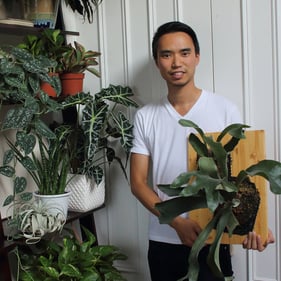 Darryl is a Toronto, Canada based influencer who has grown his social media following to a whopping 400k with his never-ending knowledge of houseplants and how honest and real he is about indoor growing!
Follow him on Instagram! @houseplantjournal
Darryl's website has a great Plant Help section where you can interact with him and ask him questions about your own plants and he will provide you with tips and advice! He did tell us he gets a LOT of questions, imagine having 400k followers.
On today's episode, Darryl taught us the ABC's of Plant Appreciation:
Aesthetics (plants are visually pleasing)
Biology (plants are fascinating creatures)
Companionship (plants are friends)
He also gave us so many great tips on houseplant care and we discussed light and the importance that is has on our plants.
Darryl's book, The New Plant Parent, is a fantastic read for new plant parents, chock full of tips and lessons. In his words, "It's time to close the old chapter of houseplant tips and tricks. It's time for a deeper appreciation of plants, beyond just objects of decor that require maintenance. It's time for The New Plant Parent."
Grab a copy of his book and get started on your indoor garden!
Watch this episode of Grow! with Katie LIVE with Darryl Cheng!