Today's guest on Grow! with Katie is a backyard organic gardener from Southern California who is thriving on her multiple social media platforms and influencing millions of gardeners and people around the world. It's CaliKim!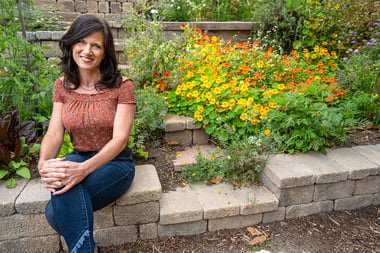 CaliKim is dedicated to helping everyone grow their own healthy, delicious vegetables in a quick, simple, and inexpensive way that fits any lifestyle, even hectic ones!
Growing up in a family with ten children, Kim's parents used gardening as a way to grow their own food and cut down on grocery expenses. It was also something that they did as a family, picking rows of beans, husking corn, and harvesting tomatoes, zucchini and other vegetables.
Flash forward, Kim moved to California with her husband and now trusty cameraman, Jerry (aka "CameraGuy"). They produce garden content to help people all over the world grow organic vegetables. They provide garden support, share garden how-to's, tips, and healthy garden-to-table recipes through her YouTube channel, book Organic Gardening for Everyone: Home Grown Veggies Made Easy, Seed Collections, and social media communities.
Her YouTube channel, CaliKim Garden & Home has an extensive library of almost 1,000 garden tutorials (adding more every week), over 250,000 subscribers and more than 37 million views from gardeners worldwide.
Watch this episode of Grow! with Katie!