Today's guest on Grow! with Katie closing out Chicken Week is TV star, Brad Hauter, from Coop Dreams!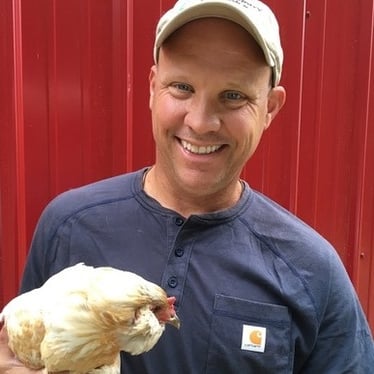 Brad started his chicken journey about 5 years ago when he got 4 chickens and now has 36!
IMDB describes Coop Dreams as "the hilarious adventures of a suburban family gone rural in search of a more sustainable lifestyle. Dad's dream is to try raising backyard chickens, but other family members are not as.....enthusiastic. Laugh and learn as we discover whether or not Dad and the gang make his Coop Dreams come true."
Brad shares with us his trials at building his own coop and how he now is the proud owner of a few professionally built coops from coop companies and a local Amish coop builder from his area.
We talked about different predators and how to make sure your chickens are safe and protected. Brad highly recommends getting outdoor cameras that point to your coop so you can keep an eye on your chickens and spot predators. These cameras will allow you to see where the predators are coming from and how they are sneaking into your coop.
With Coop Dreams, they also have a project called Coops for Troops.
"Coops for Troops will provide chickens, a coop, a starter pack of feed and supplies to returning veterans, the families of deployed military personnel, military schools, and VA hospitals and retirement homes. Chickens have been shown to be great therapy animals...they promote bonding and responsibility, provide companionship and entertainment and can reduce stress and anxiety. We know they can make a difference for those who feel isolated, depressed, anxious and alone."
Learn more about Coops for Troops or nominate a veteran here!
Watch today's episode of Grow! with Katie LIVE with Brad Hauter from Coop Dreams!