Today's guest on Grow! With Katie is an incredible woman who is a self-proclaimed horticulturist extraordinaire that is half country bumpkin, half bougie, occasionally extra, and inherently Southern. It's Abre Lee!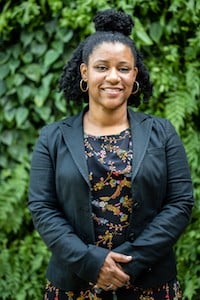 Abra is from the University of Georgia, where she serves as an Extension Agent for Fulton County. Lee has worked in the green industry for 18 years, in both the public and private sectors. Lee is a graduate of the Auburn University College of Agriculture, and owns Conquer The Soil, LLC, a brand that focuses on gardens, fashion, and culture.
Her love and dedication to the green industry has shown through her experience:

• Fellow at Longwood Gardens in Kennett Square, Pennsylvania as Leadership in Public Horticulture
• Municipal arborist for the city of Atlanta Department of Park
• Landscape manager at Hartsfield-Jackson Atlanta International Airport
• Grounds superintendent at George Bush Intercontinental Airport
• Horticulturist Extraordinaire at Conquer The Soil, LLC
• Extension Agent at University of Georgia
• Contributing Writer at Northside Woman magazine
During the Grow! with Katie episode, Abra educates us on three pioneers in the green industry that many people may have never heard of:

1. Bessie Weaver, a pioneer florist
2. Charles William Costello, an entomological artist
3. Annie Mae Vann Reid, a businesswoman who owned a 5 acre nursery and greenhouse

To learn more about these incredible individuals and Abra Lee, watch this episode of Grow! with Katie!