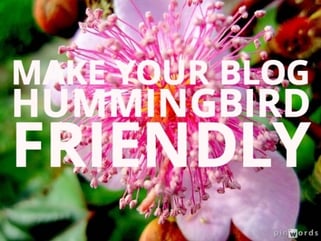 I recently spoke at Cultivate '15 about how garden businesses need to use SEO tactics and Google search features and updates to their advantage.
Here is a copy of that talk:
Starting with Panda, Google made websites focus on quality content.
Then the Hummingbird update narrowed to focus on semantics — knowing the intent behind a search.
The most recent, Phantom, penalizes thin "how-to" sites and promotes branded content. This is how you, local business, stands out.
1. Optimize for Mobile
Heard of Mobilegeddon? With 48% of search traffic coming from mobile devices, Google is rewarding mobile-optimized websites with higher search rankings, i.e. penalizing non-mobile-optimized sites.
Evaluate your site's mobile optimization here, and follow the suggestions. The algorithm roll out affects only search rankings on mobile devices and applies to individual pages, not entire websites, so make sure your most important pages are indexed as mobile friendly as soon as possible.
Mobile-friendly SEO writing tips:
Make font size large enough so website visitors don't need to zoom in to read your text.
Use responsive writing blocks to avoid horizontal scrolling.
Space links to make it easy for "fat fingers" to click the right one.
2. Use Long-Tail Keywords… In Your Customer's Voice
Mobile usage has changed the way people search online. When you're on the road running out of gas, you're asking your phone a question, like "where's the nearest gas station?" Google knows where you are, points out the nearest one and you're saved.
It's important to discover the language your audience uses. You may want to use a conversational tone, which means more long-tail keyphrases.
Actually perform the search to make sure the results mean what you think they mean.
3. Optimize Your Site for Local
Include local search terms on your website to help Google help searchers find you. This is just as important for mobile as desktop.
Incorporate local search keywords naturally in your site content to capture this search traffic for your industry and location. Excluding your location, even for Internet-based businesses, misses out on a lot of potential customers who prefer to do business locally.
Having made the changes, instruct Google's spiders to crawl your site by using Fetch as Google.
Resources: Follow us here on GROW!, Search Engine Land, the Google Webmaster Central Blog and Google Webmaster Trends Analyst, Gary Illyes, for the latest SEO information.