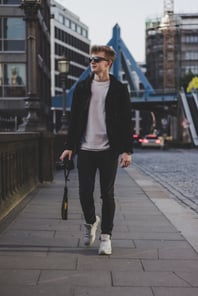 Generation Z, born between 1997-present, are not the new Millennial. People often believe this cohort closely resembles Gen Y, however, this is merely a misconception.
These dynamic young consumers control $44 billion in spending power and are already cultural disruptors in their own right.
To engage Gen Zs, marketers need to address the characteristics, priorities, and ideals that are driving their decision-making, and will continue to throughout their lives.
Brands must update their practices to better accommodate Zs' distinct generational traits, habits, and lifestyles in order to be market leaders today—and remain relevant tomorrow.
Keep reading to learn more about this powerful generation and how to reach them.
We've compiled a number of facts and stats about this generation from multiple sources to bring you a complete round-up of ways your brand can engage with Gen Z.
Financial Independence
Zs aspire financial independence and security.
Gen Zs prioritize earning an income and collecting savings.

They are inventing novel ways to earn an income.
Indulgence
Indulgent food and beverages are Gen Zs' vice of choice.
They're using culinary culture as a channel to showcase their creativity and assert their independence.
Social Video
Gen Zs are spending a growing share of their social lives on video chat platforms, which have become a highly relevant hangout for their generation.
Online Shopping
Gen Zs are reimagining online shopping as an entertaining and social experience first and foremost, not just a convenient and practical way to make purchases.
Artificial Intelligence
Zs are growing up alongside A.I.
Advancements in A.I. are shaping Gen Zs' development and preparing them for the jobs of the future.
Though, A.I. raises concerns over their personal privacy.
Young & The Restless
Modern lifestyles and circumstances are preventing Gen Zs from getting adequate sleep, inciting stress and creating an opportunity for brands to offer solutions.
As Gen Zs begin to age out of childhood, they're experiencing a unique era of Accelerated Adulthood, as today's circumstances have made becoming an adolescent as daunting as becoming an adult.
Gen Zs are adopting a more traditional and conservative approach to life, seeking to mitigate risks and challenges to achieve their version of social progress.
Looking for ways to reach a new generation? Download our e-book about Marketing to Millennials today.