This month, garden industry insiders gathered at Cultivate'19, AmericanHort's annual conference in Columbus. Garden Media Group's Katie Dubow explored what the future holds.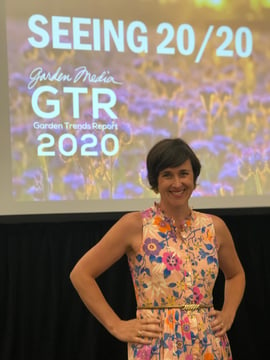 Dubow previewed the firm's 2020 Garden Trends Report, Seeing 2020, and offered a peek into what will be trending in horticulture in 2020 and beyond.
For years we've identified shifts in habits and growth that effect both consumer and professional horticulture. From the way we design our cities to the people who work in them, the green industry will be at the forefront of urban growth and development in 2020.
During the last century, technology and data have advanced, revolutionizing many industries, including gardening. This year's trend, "Roaring into the Twenties," compares where we were 100 years ago to today. The firm looks at how a new decade ushers in sustainable ways to live, socialize and garden.
As the world moves to a more urbanized focus, with some estimating that 70 percent of the world's population will live in cities by 2050, Central Recreational Districts are on the rise as people search for new and more effective green infrastructure opportunities.
The 2020 Trends also emphasize the role sustainability will play in consumerism and the green industry, from regenerative gardening to a shift to a circular economy. According to Accenture, a circular economy could generate $4.5 trillion in new output by 2030.
Garden Media has published its highly anticipated Garden Trends Report annually since 2001. The firm offers information about trends in a variety of formats including a free annual report and a YouTube series.
The 2019 Garden Trends Report is available for free download now. The 2020 report will be available in September 2019.
Read Garden Media's GROW! blog for trend updates and industry news.