By now, you know Pinterest is a major player in the world of social media.
There are 70 million users and 500,000 active business accounts on Pinterest. Plus, Pinterest generates more referral traffic than YouTube, Google+ and Linkedin combined.
The visually-driven content is clearly a winner for the gardening world since our industry is flooded with awe-inspiring colors and plants.
With Pinterest's newest update, users can follow topic categories in addition to individual pinners and brands. Users can follow topics such as gardening, hanging baskets and more. This update expands the potential reach of your content, allowing more users to connect with garden business.
Add these tips to your Pinterest strategy to increase awareness of your gardening brand.
Reach More Users
Photo Credit: Suntory Flowers
Being a brand on Pinterest is not just about what you post, it's about what others post about you.
See what's being pinned from your website, by using this URL http://www.pinterest.com/source/YOURWEBSITE.COM

By keeping a close eye on what's resonating with your users, you'll be able to post more of what of what works.
Don't stop there! Take it a step further and engage with interested customers and potential consumers. Always like pins and go the extra mile by leaving comments and thanking users for pinning your products. Share the love and repin pins to your own brand's boards if you see a creative DIY project using your products.
Engaging consumers increases the likelihood of them converting from Pinner to customer.
Research Trends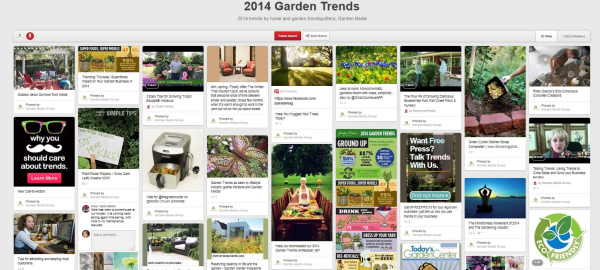 There's a lot you can learn about potential customers and Pinterest trends with just a few clicks.
Start by finding ideal customers - those that are already customers or have been pinning from your garden brand's page.
Then, check out what other websites they're pinning from. Use this information to informally gauge what else consumers' are interested in. You know your customers have more interests beyond your gardening expertise, such as decorating, recipes and kids' crafts. If you see they like this info, provide it to 'em!
Finally, scope out competitors by searching for similar products and brands. Read user comments for feedback that you could use to make a new product that's even better.
Don't Neglect Pinterest Keywords
Pinterest has a Guided Search Feature for users to find keyword-specific content. Featuring the right keywords in the descriptions of your garden brand's pins and boards will help them get found.

The Pinterest Interests, on the other hand, helps pinners find new pins based on their previous ones. By scanning the topics and keywords of previous pins, new pins are suggested.
A pin description that's detailed and loaded with keywords will help your brand get found by new eyes on Pinterest!
Download Garden Media's Guide to Pinterst for Garden Brands Below!