This week, Garden Media joins BlogHer's 10th anniversary #Selfiebration in San Jose, Ca. That's right, a selfiebration.
The selfie trend has continued to rise over the past year and both big and small brands are adding it to their marketing arsenals.
BlogHer makes the trend its own by utilizing selfies to acknowledge the growth of the internet and bloggers over the past 10 years and to generate internet excitement.
Check out these tips to learn how selfies can help bring exposure to your garden brand.
Understanding the Value of Selfies
Photo Credit: Brazelberries
The selfie Ellen Degeneres snapped at the Oscars is estimated to be worth more than $1 billion to Samsung. Using the Galaxy Note 3 smartphone (with the Samsung product logo displayed on the back of the phone), Ellen's selfie became the most retweeted file in Twitter's history — reaching more viewers than the actual Oscars.
One important lesson can be taken away from Ellen's selfie — selfie takers can become your biggest brand advocates. It's time to learn what they're worth and how you can build relationships with key influencers.

To begin, decide what your brand's goal is for your selfie strategy — is it for overall brand recognition, promotion for a specific event, or is it to launch a new product?
Encourage social media users to send in their selfies based on your goals.
1. Use Social Listening
Photo Credit: Costa Farms
Every conversation needs to be a balance of listening and talking. Encourage followers, brand ambassadors or event attendees to take selfies that spread brand messages. This can significantly expand the reach and exposure of your garden brand.
For a brand that's rockin' the selfie game, look no further than Dunkin Donuts' "Fan of the Week" contest that features Dunkin Donuts products prominently displayed in selfies.
Why are hundreds of people submitting their selfies to Dunkin Donuts every day?
Because not only do fans love Dunkin Donut's products, but they also have the opportunity to be recognized.
2. Get Endorsements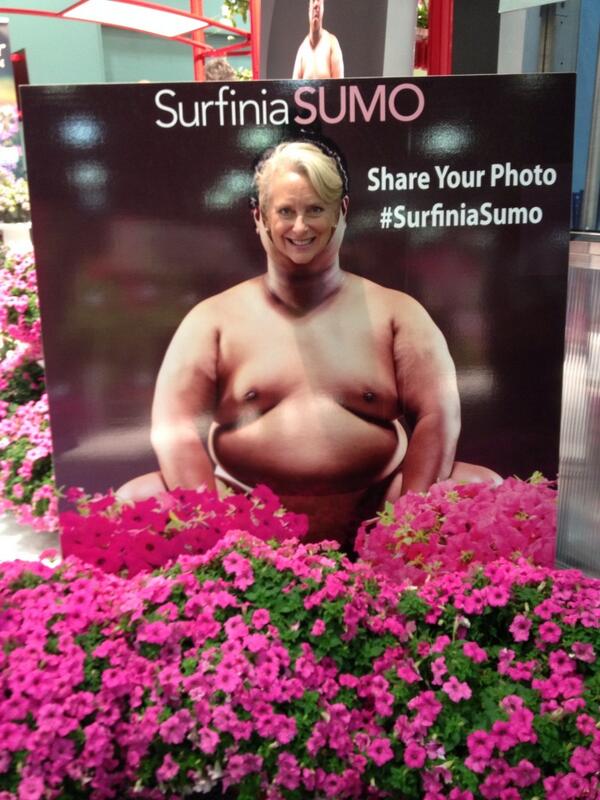 A celebrity endorsement goes a long way. That being said, getting a celebrity endorsement can be really time consuming and costly. A mascot, or spokesperson on the other hand might be easier to catch selfies with at an event or conference.
Suntory Flowers recently debuted it's Surfinia Sumo™ flowers and wrestler at Cultivate'14, and the resulting photos are great.
Using brand-specific hastags on Twitter and Instagram is an effective way to track your selfies - and it's worked wonders for Suntory.
3. Celebrate Fans
Photo credit: Longfield Gardens
When someone shows their love for your brand, show them love back. Repost their selfie and even consider going the extra mile by rewarding fans.
Send a thank you tweet or even a coupon for a future purchase. The extra effort does not go unnoticed and makes a more personal connection with fans.
Learn More About Trends By Downloading Garden Media Group's 2014 Garden Trends Report Whitepaper.