Looking to build brand recognition for your garden business and attract new customers at the same time?
Tapping the first stage of the buying cycle, the awareness stage, with stellar digital content may be your solution.
By creating digital content, your gardening business can help gardeners become inspired or learn how to tackle a new DIY project. Armed with knowledge you've shared, customers feel confident in solving a problem, and best of all, you've earned their trust by sharing your expertise.
Read on to discover 4 ways to attract new garden consumers to your gardening business by enhancing your digital content.
Understanding Your Gardening Customers' Buying Journey
Photo Credit: Costa Farms
In the awareness stage, gardeners recognize they have a need or a problem — on their own, through social media or via word-of-mouth. For example, a how-to Pinterest post can inspire apartment dwellers to spice up their space with blooms.
Here, your garden business can become the source of trusted information by creating digital content that consumers can access whenever and wherever they need to.
Attract potential customers by generating content made for different media channels. Your digital content should give a glimpse of your brand and what you can offer while also making shoppers excited for future projects.
4 Ways to Optimize Digital Content to Attract New Customers
1. Prove You're Listening
Today, 81 percent of businesses are using social media. Out of those, 94 percent use it to communicate marketing messages.
To effectively and efficiently listen to social media fans, start by creating a Q & A with the most popular questions you are asked. Then to humanize your brand, do your very best to respond to each comment, or at the very least, top comments.
Also, utilize Facebook posts to get to know your customers— and to help them know your brand better, too. Gain input and ideas from customers for market research.
2. Simply Share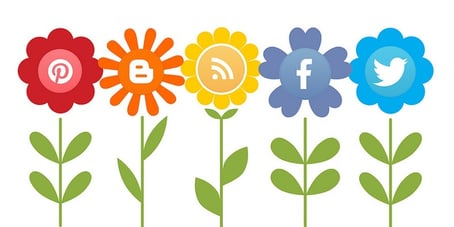 Photo Credit: HTSABO
To further engage your fans and show them your garden brand cares, retweet, regram or share fan posts about your product. Particularly, share customer stories, like planting bulbs with children, for a feel-good, share-worthy post.
3. Go Beyond Your Own Sites + Social

Continue to create awareness by becoming a guest writer for other relevant blogs or news sites on topics related to your gardening business. Find out where else your customers are going for information to reach a new target audience.
Also, share the love by retweeting gardening tips from top influencers.
4. Optimize Digital Real Estate
Photo Credit: j&tplaman
Make it easy for people to spread the word about your brand. Include links to your website in guest columns, emails, tweets and posts. Then, showcase your social sharing buttons and make them easy to find and use.
Also, ensure your Pinterest images contain information relevant to buying, like the price, flower variety, and even a link to purchase.
Learn More About Attracting New Gardeners to Your Business with Content Marketing Below!