"Dress up your yard" is slated to be a BIG garden trend in spring 2014.
As the weather warms up, homeowners want their gardens and outdoor living spaces to be a place where they can entertain guests on the weekends or relax after a hard day's work.
Flowers are no longer the only way consumers are adding pizazz to their yards. Gardeners and home stylists of all kinds are going the extra mile and dressing up their gardens in a number of creative ways this spring.
From decorative planters to creative DIY projects, people are constantly looking for the newest way to set their garden apart.
See how your garden business can take hold of the "Dress Up Your Yard" garden trend this spring below.
Adding a Dash of Garden Decor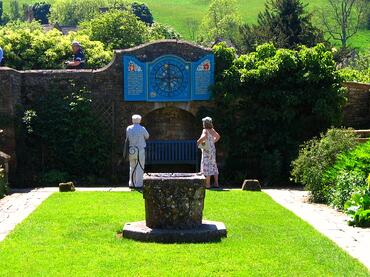 photo credit: UGArdener via photopin cc
Gardeners are becoming even more and creative and thinking of original ways to bring art into the garden.
The possibilities are endless, and gardeners are continuing to push the envelope.
Some popular garden art projects include making bird feeders from tableware, spray-painting fences and decorative stone pathways. May sure you have all the stones, paints and concretes these creative gardeners are going to need! Take it a step further and create an "Art in the Garden" collection for this spring, complete with idea boards, tips on how to do it, all the products they'll need to make it happen, and of course, classes to do it in your store!
Cover your gardening store or website with pictures, workshops and anything else you can think of to make you their go-to place for inspiration.
Statement Planters
Photo Credit: NativeCast
Adding a chic planter to the garden or porch is a quick, affordable way to give a space a new look.
This year, the trend is to keep it clean and simple, and it is no different with garden containers.
Consumers are going to be looking for simple, neutral colored planters--like NativeCast's handmade Crab Apple Collection above-- to statement pieces in an array of colors.
Make sure your gardening business is stocked up on all container shapes, sizes and colors. If you sell live goods, sell them right in beautiful containers to make it simple as can be.
Bringing the Outdoors In

Photo Credit: Costa Farms
Dressing up the yard is not an isolated trend this spring as planters and garden jewelry are brought inside to brighten up a space.
Bring the colors of their garden inside is a major trend for 2014 and a great way to create an oasis inside and out. Many plants are able to grow indoors, and it is proven that having houseplants can help lift your mood, make you smarter, and clean the air, too. For a full list of the benefits of houseplants, check out Costa Farm's 'O2 for You' campaign.
This season, include more information on your website about transitioning plants from inside to out, and vice versa.
Want to Learn What Other Garden Trends Will be BIG this Gardening Season? Click Below for the 2014 Garden Trends Whitepaper.