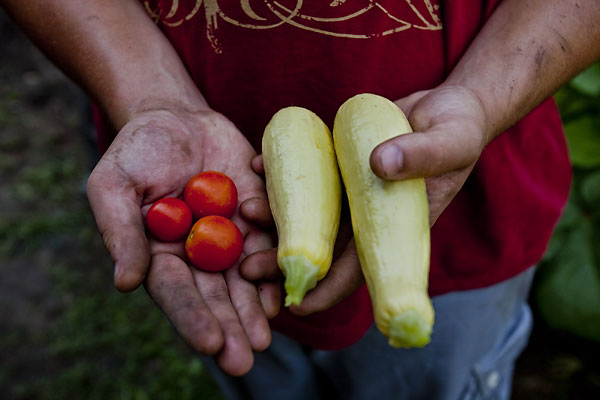 Family dynamics are changing big time in 2014, according to Garden Media's 2014 Garden Trends Report, and it's time for your garden business to catch up.
Men are taking on equal roles as the homemakers in many households, which means they're getting their hands dirty in the garden too!
Men love to get physical and create with their hands, and what better way to do that than gardening?
The traditional 'mom role' is becoming more gender netural, which means women are not the only ones interested in the gardening world anymore.
Introducing: Mr. Mom, the newest gardener to target in 2014.
With this change comes a new challenge. Keep reading to learn how to get your garden business noticed by Mr. Mom.
Make Him Comfortable
Men love to be comfortable, which means the majority of men aren't shopping at the local garden center, they're going somewhere familiar instead.
21% of men shop at local hardware stores for their gardening needs.
This year, focus on getting your garden product in to the stores that Dad is going to be shopping at, or focus on hosting a workshop or event.
Even more stay at home dads are turning to the internet to brush up on skills, so your online presence matters, too!
Create a YouTube channel geared towards men that showcases all the ways he could use your garden product--and of course, have a blog he can look at too!
Cater to his Interests
Photo Courtesy of Holistic Moms
It's no secret that parents are interested in the quality of the food they give to their children. With one third of dad's staying at home with the kids, feeding the kids healthy, yummy food is now his responsibility.
This is the way to get Mr. Mom interested in sustainable gardening.
Guys think getting dirty is fun, and hey, they love to eat too!
Mr. Mom gets to combine these interests when he takes up edible gardening. Not only is he providing nutritional food for the family, but he's also teaching the kids a lifelong lesson--and having fun himself, too.
Outfit your blog to fit his needs. A weekly how-to on sustainable gardening or a post including tips on composting will win you points with him.
Include the Kiddos
Photo Courtesy of DailyDads.org
Mom's daily schedule is out, and Dad's spontaneous anti-schedule is in. Dads are certainly making their mark on child rearing and completely rewriting the traditional.
With a more hands-on approach to teaching, and a love for all things DIY, this is your opportunity to market to Mr. Mom.
Now, if you can create an activity where Dad can have fun and the kids can play, your garden business has a golden opportunity.
Hold a DIY workshop that gets both dad and kids involved.
Make it a weekly or monthly class, teaching new skills each time or new ways to incorporate your products into his life. Allowing the kids to be involved is a great way to keep them busy (and learning!) while getting your product on his mind.
Or, if you have a garden product, create take-home kits made to teach these lessons at home.
For the Full Scoop on 2014 Garden, Home, and Lifestyle Trends, Download Garden Media's 2014 Garden Trends Report Below!

Initial Photo Courtesy of HamptonRoads