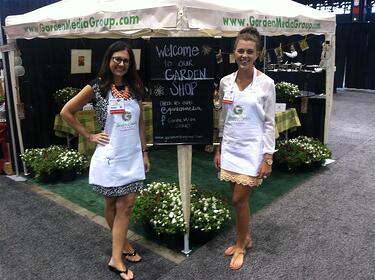 Sponsoring an organization or an event in the garden industry is a powerful way to

connect
with key audiences

and expand your network.
But sponsorship isn't a silver bullet.
It takes a narrow strategy to really work it for your business. To do it right, lots of work and a significant time investment will be needed in order to translate sponsorship dollars into business.
So how do companies like yours get the most out of sponsorships, partnerships, and tie-ins to increase their marketing value?
One key is to look beyond the classic logo placement and event attendance. Leverage the sponsorship's ability to truly connect with members.
Create value and educational opportunities for members, and you will see a shift in their behavior. Then, the sponsorship will truly reinforce your brand identity.
Don't just slap your brand on a banner, and call it a day. Here are 7 tips to maximize your opportunity and get the most from your marketing spend.
1. Clearly define your objectives.

Photo Credit: Krissy.Venosdale via Compfight cc
Determine which of your current marketing goals or strategies the sponsorship can help achieve, versus creating new ones.
2. Choose the right partner.

Photo Credit: BenJTsunami via Compfight cc
There's nothing worse than a partnership that doesn't help align your brands goals or where you want to take it.
Before signing the dotted line, attend events put on by the organization, talk to other sponsors, ensure that decision makers are part of the membership, and get a feel for how actively involved they are.
Make sure your partner will enable you to reach a new, key target and reinforce — or define — what you stand for.
3. Do your homework.

Photo Credit: Rennett Stowe via Compfight cc
Just as you would with a PR firm, make sure you know what you'll receive for your investment. You don't simply want to plaster your logo on a banner and walk away.
Great partnerships can offer access to membership lists and emails, opportunities to meet face-to-face with members, exclusivity in your field and editorial content in newsletters and/or blogs.
Sponsorship is an investment, so make sure you know what you will get for your investment.
4. Value what you bring to the table.

Photo Credit: MyDigitalSLR via Compfight cc
Every successful sponsorship should be symbiotic.
Use the value you bring to the table to negotiate opportunities; otherwise, you may overpay.
5. Generate content.

Photo Credit: jDevaun via Compfight cc
Your sponsorship should come with a few key pieces of editorial content like an article in a newsletter, a dedicated email or blog post. Your article should creates value for the members and not be a simple sales pitch for your company.
Additionally, post about the sponsorship on your own blog. What did you takeaway from a talk or event, how does it apply to your own business or industry? Share the blog post socially using event and organization hash tags as well as relevant attendee and industry handles.
6. Connect afterwards.

Photo Credit: nan palmero via Compfight cc
Connect with members of the organization on LinkedIn (and then make sure you're working it on LinkedIn).
7. Capture data and measure results.
Photo Credit: Chris JL via Compfight cc
Clear objectives should drive opportunities for measurement and optimization, which will be the key to quantifying and improving sponsorship ROI moving forward.
Done properly, sponsorship marketing can offer much more than mere "eyeballs." It can also play a starring role in activating consumer behavior and motivating an entire system to do the same.
People's passions — whether they're causes, competitions, music, or movies — offer myriad opportunities for engagement, content, sharing and value. Find the right match and unlock its power to build passion and business for your brand.
Sponsoring an event correctly takes time and effort, but you'll find that, if done right, the reward of increased business is well worth it.
Looking to Increase your Branding with Sponsorships? Check out our Branding Case Study to Learn The Secrets of the Pros.