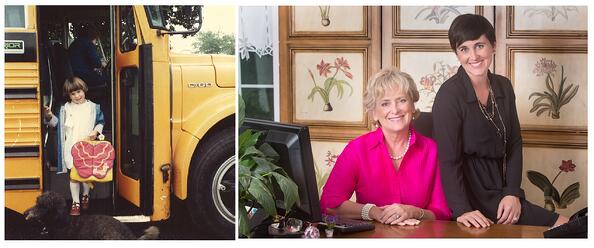 That's right: on the 25th of September, Garden Media celebrates 25 years in business!
A quarter of a century ago in September 1988, Suzi McCoy put her daughter Katie on the bus for first grade and opened the doors of IMPACT Marketing & PR.
The firm would expand and eventually become known in the horticulture industry as Garden Media Group.
Now, Katie has returned home to roost and is the Creative Officer at Garden Media Group.
Below, Suzi McCoy dishes on the full story of how Garden Media became the leading PR firm in the lawn and garden industry over the last 25 years.
Don't forget to wish Suzi and Garden Media a happy anniversary!
Garden Media in a Nutshell
The Uncut Version of Garden Media
For the die-hard Garden Media fans, here's a bit more about how Garden Media has influenced the world of horticulture and gardening over the last 25 years.
Suzi says it wasn't all plants and pottery in the beginning. "We cut our public relations teeth on some hard-edged industries—banking, hospitals, real estate," she says. "Our work in these fields was something to be proud of, but that all changed in 1995 with our first horticultural client, The Conard-Pyle Company."
"We discovered the people in horticulture were ladies and gentlemen. People in the industry and the media were so helpful, they wanted us to succeed. We fell in love and still are. The people, plants and products we represent are just irresistible, and we love sharing their stories." Suzi still lives by this today.

Garden Media became well-known for their services when they helped launch and build The Knock Out® Rose. Over the years the firm has helped introduce hundreds of new plants and garden products, including such rock stairs as Endless Summer® hydrangeas, BrazelBerries®, and Raymond Evison Clematis.
Past and present clients include heavyweights such as Costa Farms, Fall Creek Nurseries, RESCUE!, Suntory Flowers, Ball Horticultural Company, the Philadelphia Flower Show and Longwood Gardens.
Suzi says she's extremely proud of the caliber of clients the firm represents, but feels their greatest asset is the Garden Media team. (She's making us blush!) "Everyone works really hard to exceed client expectations every day. We want to 'wow' them with results."
One of Suzi McCoy's Favorite Contributions to the Garden Industry
"Our annual Garden Trends Report is one of our proudest accomplishments, and something we love to do," Suzi says, and we work long hours for months to get it right. "It's guide to help people learn to connect the dots and start seeing trends around them so they can be more successful. We do it for our our clients and the whole industry to help them better prepare for future consumer needs."

In the last 13 trends reports, Garden Media's predictions have been spot on. From the rise of Made in the U.S.A. and the 'buy local' movement to men getting in the garden, growing vegetables and a renewed interest in organics, Garden Media has kept the industry ahead of the curve.
What the Future Looks like for Garden Media
The company has moved into its permanent headquarters in Kennett Square, PA, where this dynamic mother-daughter duo has made Garden Media a one-stop resource for traditional and online marketing for industry leaders and emerging company stars both in the U.S. and internationally .
"It's been a great ride since I put Katie on that school bus 25 years ago, and I look forward to the journey ahead," says McCoy. "It's a true gift to love what you do."