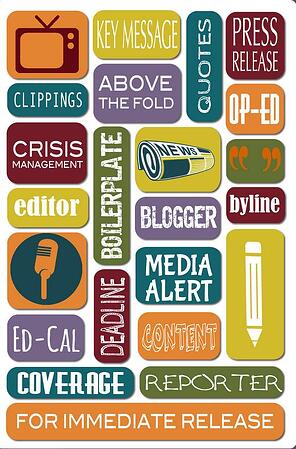 Public Relations, you know your garden business needs it, but you're not 100% sure why.
Yes, stories will inevitably result from public relations. And, if your business is ever in a crunch, they're there to help you work through a crisis. But, what about the other 95% of the time?
In a nutshell, a public relations firm spends their time building your brand to make your customers fall in love with your company and become loyal consumers who ask for your product by name.
Each Wednesday in August the GROW! Blog will be delving into all your garden business needs to know before hiring a PR firm.
To see if your business is truly ready for a public relations firm, first see what the function of a PR firm is in your business plan--and learn a bit more about the services offered, which go far beyond securing stories.
What does Public Relations Do?
A public relations firm is a partner to your business. Like any good partner, they listen to your problems and your goals.
Plus, a quality PR firm will have their finger on the pulse of your industry to understand the marketplace and what messages will resonate with your audiences.
Working with a public relations firm will increase your brand's visibility in every medium by telling your story in the most compelling way possible.
Specifically, a PR firm will...
A full-service public relations firm will also be able to help your business create advertisements, participate in media buying, create quality videos, increase SEO, and if the firm can't do it for you, they'll put you in contact with the right people.
Branding

Building a brand is a small series of conscious choices that reflect your 3 brand words. Once your brand identity is established, a public relations firm will help you write a mission statement to guide all that you do and consult with you on your business plan at large.
Your PR firm will also help you assess your competitors, so that you can identify their faults and your advantages. Then, they'll position your product to have the most impact.
Product Launches

A PR firm does enough product launches that they're seasoned experts at knowing what it takes to get your new product on the map.
The firm will help with naming, concept development, and testing before the product launches.
Once the product is ready to hit the shelves, the firm will conduct competitive research, develop a marketing strategy, and create a 3 year plan to launch a product.
To ignite the buzz for your product, the PR firm will then launch a selective sampling program to top influencers in the industry. From there, the media placements will continually grow each year with the help of your firm.

PR Campaigns

Public relations campaigns focus on the power of the press by influencing the unconscious mind through experts' endorsements.
With that goal in mind, pr firms define specific strategies, goals, and tactics to reach your target audience. Then, an action plan is created to hone down the geographical areas and key media your business wants coverage in.
Social Marketing
With social media, your business is never off the clock. With Instagram, Facebook, Twitter, Pinterest, and Google+, managing social media is a full-time job.
Luckily, public relations firms also help with social marketing by managing your garden business's social media and creating an editorial calendar. Plus, they're experts at measuring the return on investment on social media.
Media Relations

As media relations experts, public relations firms create meaningful and successful results for clients by maintaining impeccable media relations.
To begin the process, the public relations firm will curate current and well-edited media lists. They'll then begin targeting key influencers in print, online, broadcast, and social media.
With these contacts, they get you media coverage and interviews. Plus, these contacts greatly aid the organization of a media tour around the country.
Content Marketing

Google is the go-to for every floating question that wonders through our minds. With all those questions, your business needs to be answering the questions your key audience is asking!
Public relations firms create content like blogs, press releases, landing pages, e-books, case studies, newsletters, e-mail marketing campaigns, video, and more.
Then, you situate your business as the expert on the topic. The next time your key audience has a question, they'll come right to you for the answer!
Learn How Public Relations Grows Your Garden Business!
A million thanks to Forza Marketing for defining what public relations is in a beautiful mosaic.