The first thing I do every day is write a to-do list--and I know I'm not alone in this!
Most days the list helps keep me on track and helps me accomplish more.
But, some days I get overwhelmed. Before I freak out though, I take a dive into my box of digital tools.
I'm always on the lookout for new web applications to make me more productive, which helps me cross items off my to-do list faster! Plus, the more productive you are, the more you'll see the impact on your garden business's bottom line.
Below I'm sharing my favorite websites and apps to boost your productivity while streamlining your to-do list!
Remember the Milk
Meet the To-Do List of 2013.
The name put a smile on my face that only grew the more I used Remember the Milk! Throughout the day, I have a million (or so it seems) tasks that need to be tackled, both big and small. Remember the Milk allows you to prioritize your list from most to least important.
With this app, I'm able to create a digital to-do list and hook it up to my Google Calendar and Gmail. I loved this far more than my archaic PostIt notes because it comes with me any where I go.
At the end of the day, I always send myself a few reminders for lingering tasks around 3 or 4 p.m. to give me enough time to finish them before I head out for the day.
Best of all, I'm able to share my list, or individual tasks, with any of my contacts.
Evernote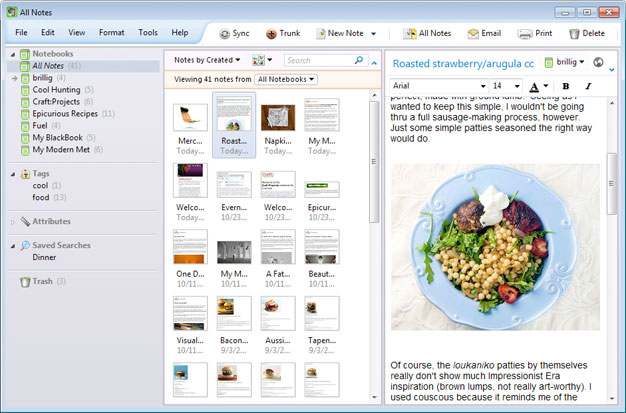 Evernote is way more than just a to-do list. Evernote is free, which is fantastic, but it also stores all of your notes, ideas, plans and photos.
One of my favorite features of Evernote is that caters to the creative with Skitch. I love to doodle my notes in an organic fashion. With Evernote, I'm able to Skitch my list and doodle on my tablet!
To keep the creativity cooking, Evernote lets you snap pictures and save them with captions. You can also save inspiring websites!
Plus, Evernote allows you to sync up your computer with your mobile devices--tablets included!
JotNot
The world is moving away from paper clutter and embracing the digital world. When I'm on the go, I don't need to make copies or send faxes anymore.
I've upgraded to JotNot Scanner--and it is fabulous! JotNot is a free digital scanner.
Want to save something to a folder on your desktop? It's easy peasy! All you do is snap a picture with JotNot, and you can email it to yourself (or whoever) as a perfect PDF. No cost, no hassle, no more running to the copier.
Craving more digital tools? Read up here! Integrate these apps into your daily routine, and it'll seem like you've added hours to the day!
Keep Maximizing Your Garden Business with Our FREE e-Book on Social Media Below!

The warmest thank you to UpCounsel for the productivity picture!