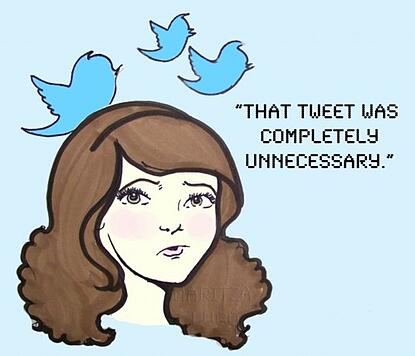 Today, images are preferred over text, especially in the realm of social media.
All day, every day we as consumers are inundated by constant text. And, when we log onto our social media accounts, we're bombarded with even more words.
While our eyes and brains have adjusted, most of the time we simply scroll right past that boring old black and white text.
Bring your text to life on Twitter by illustrating and visualizing your text. Watch your social engagement grow off the charts!
What kind of tweets work best?
If you're going to bring a tweet to life, you first need to know what tweets to focus on. This is the easy part! There are two types of tweets that translate best to visualization.
Type One Tweet: The Customer Tweet
Again, social media is all about social engagement with consumers. Customers like to feel valued. If your customer is following your garden brand on Twitter or likes you on Facebook, you know they value you. Return the favor.
If a customer raves about your product, shares a funny story, or tells you their favorite way to use the product, show your customer you care about their insight.
Pick this tweet to illustrate; your consumer will feel valued, and thus, feel the love. Other followers will see how much you value consumer feedback and will hopefully share their own story in hopes of it being illustrated.
Plus, the customer will share the picture with their network. The more genuine buzz and connections you can generate, the better. This is why we use social media!
Type Two Tweet: The Beloved Tweet
If you have a topic your followers love hearing about, go ahead and craft a brilliant tweet about this topic. Check your analytics on blog posts, press releases, and social media pages to see the topic that your green customers simply can't hear enough about.
Then, write a witty tweet about the subject. Illustrating your own words may seem kind of egotistical, but, if your followers have already proven how much they love this topic, you can only imagine how much they'll love the visual you create!
Again, follow the interest of your followers. Give them what they want! If you illustrate a popular, topical tweet, they'll already be engaged, which means you've succeeded!
Illustrate
The above image is from Hello Giggles, Zooey Deschanel's overly-adorable online community of women craving everything DIY and anything cutesy. On the site, there's an illustrated tweet of the day segment, where everyday one of their follower's tweet is illustrated! Type One Tweet Alert! The Oatmeal also did a similar, but funnier version, entitled "I Drew Some Tweets."
Apply this concept to your garden business. If you have a designer on staff, well then, you're in luck! Collaborate with them to see if they'd be willing to start a Tweet a Week project, where they illustrate a tweet a week. The images could be hand-drawn, scanned, and uploaded, or drawn in Illustrator.
Either way, the images will be hand-crafted, so they're totally one-of-a-kind, which will garner attention!
Meme
Illustrating tweets takes time, but creating meme tweets is easy!
All you need to do is find the right meme, or even just a funny image, and write the tweet on it. It can be done by almost anyone.
Just make sure if you choose a meme that you're working within the conventions of the meme syntax.
Instagram
Instagram is another easy option if you want to illustrate a tweet. Download TypoInsta on your smart phone, and add text to any Instagram you have.
When using Instagram, snap a representative image, and then add the tweet via TypoInsta.
Be forewarned, however, that even 140 characters may be too much text for an Instagram image. Instead, pick out the most representative phrase from the tweet, and illustrate that.
Vine
Vine is made by Twitter, so it integrates flawlessly into the social media platform. Vine videos are short and sweet, which again makes them worth your viewer's time!
If a tweet would better translate to a video, then use Vine. For instance, if a customer tweets, "love watching my seeds grow into plants! #plantmom." Take a short video where you show a seed sprouting, and then, have an employee hug or cradle it like a baby. It's easy, it's funny, and it'd go great with some music in the background.
Vine works best if your tweet would translate into a series of images or video footage, instead of one still image.
Regardless of which visualization platform you choose, your followers will LOVE to see you spice up a boring ol' tweet with a pretty picture.
It's been proven that social engagement skyrockets when your garden business uses images, so what are you waiting for!?
Learn even MORE ways to use Instagram in your garden business below!
Thank you to HelloGiggles for the illustrated Tweet!