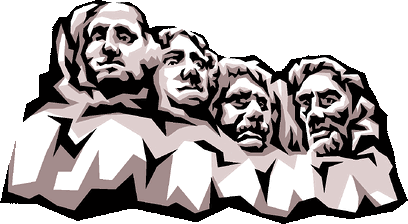 President's Day can seem like a bit of a ho-hum holiday after the love-filled, chocolate-centric Valentine's Day that has just passed. But, President's Day is a national holiday, filled to the brim with remembrance!
President's Day. A day to remember the best of the best. Our Presidents of the United States have led this country through some of the roughest times in our history, and, managed to do so with dignity and poise.
Hum... kind of sounds like what we do in the public relations world day in and day out! We try to create an iconic image while portraying our clients as well as our own business in a gracious light.
Let's join forces for a bit. Our past, brilliant Presidents could certainly teach us how to excel in public relations. Today, we tip our hats to the past Presidents; thank you for all you've done and for all you continue to teach us!
George Washington: Everything Ethical
The first, the best? Well, hard to say, but it's certainly a close call. George
Washington and the story of the cherry tree are synonymous. "I cannot tell a lie." Washington will forever be remembered in our nation's history as the first President, who founded this country on trustworthiness and honesty.
In the world of PR today, we're in the same spot as George Washington, which is pretty hard to imagine after all these years! But, I swear, it's true! The world of social media and the information age has ensured that the truth will always emerge. We cannot tell a lie either; it's unethical and simply not worth it.
Plus, the more you lay all your cards on the table, the more your social media followers, clients, and consumers will trust you. And trust is the biggest asset to a public relations firm. Thanks, George Washington! We'll never look at cherries or a little fib the same way!
Abe Lincoln: Negotiater Extraordinaire
Lincoln has been dominating the spotlight over the last few years either been killing vampires or having Daniel Day Lewis play him in an epic bio-pic. Yet, Lincoln has more to teach us than the big screen would have us believe.
His wit was in the forefront in both films, but what struck me most was his ability to compromise. Lincoln was the leader of a nation divided, of a country at war over a single issue. He had to reunite the polar sects on common principles.
Today, Lincoln can help public relations professionals lead the way. Whenever you get into a sticky place—a difference of opinions with a client or garden customer—remind them what unites you. Verbalize your common goals, hopes, and dreams. Then, showcase how this new, innovative idea you have connects with those common principles. Also, always be willing to compromise; it's a difficult art, but it's worth it every time.
Franklin D. Roosevelt: Overall Optimistic
FDR has many lessons to teach us in public relations in 2013, but I will outlines two: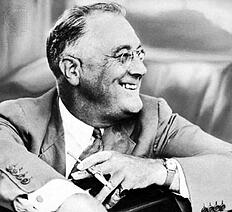 FDR taught us the power of inspiration and optimism. "We have nothing to fear, but fear itself," FDR touted to a nation in poverty and troubles. He rose up to the challenge by focusing on the positives. Today, some companies still only rely on public relations in times of trouble. When working with these clients, always remember to focus on the possibility, instead of the present troubles. Believe in the power of your public relations team and the power of your client! Go forward with confidence!
Plus, Roosevelt mastered the art of memorability. He took a lengthy name and shortened it to a catchy, memorable abbreviation. If you have a new product, make sure the name is short and sweet. Heck, take it the extra step, and make a cutesy abbreviation for it.
Want to discover how to become the next President? Ok, we don't have the answer for that... but we do have tips for launching a new product! Go ahead: download our e-book below!
**A special thanks to USS Post for the funky rendition of Mount Rushmore, to Innately Grey for the Washington picture, to Clevered Fool for the Lincoln quote, and to FDR Suite for the FDR pic!