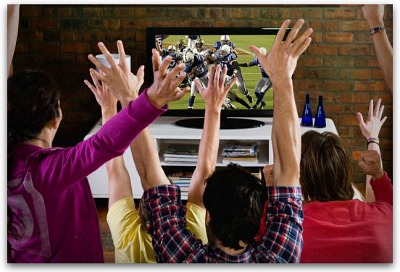 The morning after: your hopes crushed or validated, your stomach full, your jersey messy as anything, your hands still have a bit of dirt on them, and your head's buzzing with PR lessons learned.
It's none other than the Monday after the Super Bowl and Super Sow Sunday.
Being lovers of yummy food and beautiful flowers, we had to take part in both. Yup, I sowed my seeds this year with the brawling noises of the Super Bowl in the background. Which seeds, exactly? Sustainable Seeds, of course!
With our seeds planted, let's reflect on the Super Bowl and the hysteria that surrounds it every year.
The Super Bowl is PR GOLD. It's the most watched sporting event of the year, it has its own culture, and each year, the paper is chock full of Super Bowl articles for weeks.
Recapping the best Super Bowl PR lessons of 2013 below.
Have a Back-Up Plan
Instantly, one of the most talked about moments (besides Beyonce) was the black out. Lights off, uh-oh... They played it off, but it definitely could have been smoother.
When hosting an event - especially a live one - make sure you have as many back-up plans as possible. You've got to look like everything is flawless, even if it isn't. Have talking points that could be used at any point during the evening. Have a few potential camera shots ready to go! Anything you can prep, better be prepped. You just can never count on perfection.
Play Up the Story
Bros Bowl, Super Bros Bowl, or the Super Baugh. The PR team had this story down pat - history in the making. Two brothers (Jim and John Harbaugh), coaching two different teams in the Super Bowl, creates a killer story. These PR teams knew just how to take that one detail that made this year's matchup different from all past and capitalize on it! We'll be hearing more about this history making Super Bowl XLVIII for days and weeks to come.
Look at your product or latest story. What makes this story different from all the others? Find the detail that stands out and run with it. Make it catchy, and watch it stick.
Location, Location, Location
New Orleans, you've gotta love it! The location for this year's Bros Bowl has such a distinctive culture and story. New Orleans is a location that people across the US love to talk about it. The city has had many struggles, but it's prevailed. The colors, sites, and culture of New Orleans just pops off the screen. As soon as the location was released, New Orleans has been on the tip of everyone's tongue.
Next time you're planning an event, take a tip from the 2013 Super Bowl: find a location that is one of a kind. Be it a restaurant, city, or venue. The place you choose should be memorable and unique.
Expand Your Horizons
Well, this is a lesson from every Super Bowl ghost of the Past, Future, and Present. Expand your horizons. Heck, I don't really care about football, but I am a sucker for the commercials. The PR team here expanded their audience from football lovers to everyone. The commercials at the Super Bowl have become a cultural touchstone. What was your favorite commercial this year?
Expand your horizons. Outline your audience, and brainstorm with your team how you can expand your concept to more and more people. Think bigger, think better. Don't think that just one type of person will like your new product. Expand your mind, and expand your brand!
There ya have it, the PR Lessons from Super Bowl 2013, in a nutshell.
Want to learn how to build YOUR brand with lessons from past PR campaigns?