Finally, it's that time of year! Christmas cookies baking, trips to the home-front to reunite with family and friends, a fragrant Christmas tree, and on a different note, advertising galore!
Even though businesses do tons of advertising this time of the year, they also truly embody the holiday spirit and give back to the community around them as well!
Cause-marketing campaigns are emerging left and right this time of year, so we've compiled the best of the best below!
According to the latest reserach by Cone Communication, 71% of consumers expect companies to support causes during the holidays. Draw inspiration from some of the greatest campaigns and apply them to your own garden business.
Kohls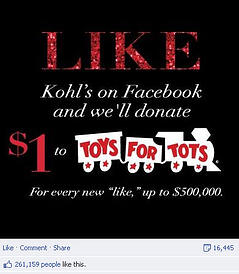 For years, Kohls has partnered with Toys for Tots around the holiday season. This year, however, they're spicing up how they are helping. Beginning on November 29th and ending on December 24th , for every new "like" Kohls gets on Facebook, they'll donate $1 to Toys for Tots up to $500,000.
This new twist to their traditional approach allows users to easily participate. Also, Kohls's audience can easily engage with the campaign. Already, the post has over 16,000 shares. Their audience can easily pass the offer allow on each of their social media platforms.
Plus, Kohls gets to do good for others while doing good for themselves. It pays to give back, and all those new likes will not disappear in the new year!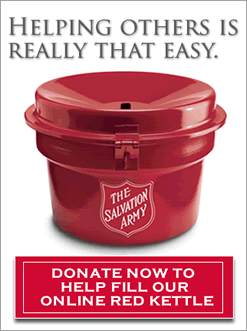 Salvation Army
Again, this is a new twist on an old favorite. Salvation Army has ALWAYS done the Red Kettle Campaign--actually since 1891. Sounds familiar, right? A jolly old Santa Clause ringing a holiday bell with a Red Kettle next to him? Salvation Army then uses these funds to continue their most critical programs and services year round.
This year, the Red Kettle goes virtual! That's right! No longer must you hunt down the Santa with a Bell! Now, their digital Red Kettle allows you to start an individual kettle, a company kettle, a team kettle, or you can even join an existing team.
Donating to Salvation Army could not be any easy. The link can be shared on social networks, or sent via e-mail. There's no cost to starting a kettle, and best of all, all donators get a tax receipt e-mailed to them immediately.
Toys R Us
The circle continues! While the previous two campaigns are tried and true, Toys R Us is debuting a brand-spanking new cause-marketing campaign this holiday season.
Last year, Toys R Us noticed a trend: customers across the country with extra cash anonymously payed the entire layaway bill of those less fortunate.
Following their customers' inspiration and good will, Toys R Us created their "Give Back with Toys R Us" Campaign. For each layaway balance paid by a customer, Toys R Us will donate $200, the average amount of a layaway account, of toys to the Marine Toys for Tots Foundation, up to $1 million worth of toys.
To add a digital component to the campaign, each time a layoff is paid by a kind, giving soul, Toys R Us updates their "Give Back Tracker" on Facebook. The tracker will show the location of the kindness, and hopefully, encourage others to help out as well.
Ah, the kindness of the holiday season lives on!
Find out the true impact of cause-marketing with our e-book. Cozy up in front a fire with chestnuts roasting, and read on!