The Garden Media Team is always on the look-out for the newest and hottest trends, and recently, we've loved watching the holidays go green!
The holiday season has touted green and red signature colors forever, but this year, the holidays are actually becoming green.
Below are our absolute favorite ways to go green and create an eco-holiday this year!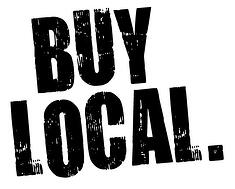 Small Business Saturday & the Buy Local Movement!
Small Business Saturday began in 2010, but this year, the effort and support from communites across the nation seemed greater than ever before! The goal of the event is to counteract the big-box retailers and e-commerce sites touted by Black Friday and Cyber Monday.
But, don't shop locally just one day in the holiday season! Buying locally supports local artisans, keeps the dollars within a community you love, offers more unique gifts, and finally, cuts the incredibly negative, environmental effects of shipping.
Wrap Up Creativity
An estimated 4 million tons of wrapping paper and shopping bags are thrown away during the winter holidays. Despite the waste, gift-wrapping is still a part of the holiday tradition.
Instead of buying the typical wrapping paper made from virgin trees, this year creativity is in! Flex those creative muscles and imagine all the ways you can repurpose items around the house.
Read the newspaper? Have old paper maps? Voila wrapping paper!
Plus, save the paper or gift bags and reuse them next year. Of course, there's always recycled gift-wrap too!
Giving Green
No, we aren't talking about cash! Plants, flowers, herbs, and seeds are officially back in action this holiday season.
Living gifts are the best kind! These green, lovable plants will just keep giving all year long. Plus, plants are out of the box—literally! They're a unique gift that will also require some crafty, innovative gift-wrapping!
Now that you're up on the holiday trends, get ready for the new year with the 2013 garden trends!