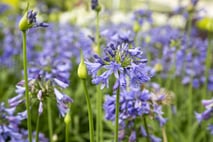 Pantone's 2022 Color of the Year, "Very Peri," a custom periwinkle with hints of violet-red, is popping up on taste makers' radars around the country. From delicate blossoms to vibrant foliage, you can find periwinkles and purples in a vast array of landscape plants. As trendy pollinator, edible, and cutting gardens are poised to capture gardeners' attention in spring 2022, the following periwinkle plants offer an inspiring infusion of this year's "it" color.
A Very Peri Pollinator Paradise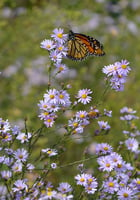 Debuting to expanded regions across the US in 2022, the Garden for Wildlife Collection of native plants makes it easier to plant with a purpose. Scientifically selected to support the highest numbers of butterflies, bees, and birds, these blooming perennials add variety, color, and texture to your garden. Best of all? They're delivered right to your door! For "Very Peri" picks, look for the aster and geraniums in the Spring Bee Buffet Collection or the lobelia in the Pollinator Power Collection.


A "Berry" Peri Edible Garden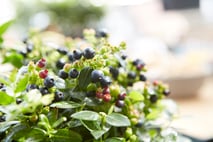 A terrific – and tasty – way to bring color into the landscape is with blueberries; their blue-purple fruits and attractive foliage extend your garden's visual interest across seasons. BerryBux® from Bushel and Berry® is a revolutionary ornamental blueberry plant with a Buxus-like performance and appeal in the landscape. Its foliage and compact habit, similar to boxwood, make it ideal for hedges and mass plantings. BerryBux® grows to a height of 2-3' and works best in zones 5-8. The berries on BerryBux® are small in size but pack a punch with a wild, aromatic flavor. And the purple palette doesn't stop with berries! Most people associate rosemary with its aromatic and culinary properties, but the periwinkle flowers of Chef's Choice® Culinary Rosemary are a bonus to this flavor-packed and easy-to-grow herb.
Bold Blooms in Very Peri

There's no easier way to bring Very Peri into your landscape than adding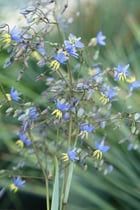 vibrant flowers. Agapanthus spikes explode with bright purple-blue flowers; fast-growing, drought tolerant, and packed with color, the Little Blue Fountain™, 'Golden Drop,' and Ever Sapphire™ Agapanthus varieties from Southern Living® Plant Collection all offer shades of periwinkle. Nectar Blue™ Salvia is a heavy-blooming perennial with stunning periwinkle flowers; it's also a pollinator magnet that thrives in containers or landscapes. And for a dynamic border or mass planting, try the striking blue-gray foliage of Southern Living and Sunset Plant Collection's Coolvista™ Dianella, which offers year-round contemporary-looking foliage and petite periwinkle flowers in the spring.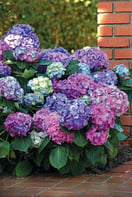 L.A. Dreamin' is a periwinkle hued hydrangea with star power that lasts all season long starting from early summer on through fall. And although the flower power is huge, thankfully this compact plant will fit into any garden. Dark green, textured foliage casts a marvelous contrast for the large multi-colored blooms. It is beautiful and versatile, great in both the garden or planted in a decorative container.

Very Peri captures the sense of anticipation and excitement for a new year and spring on the horizon. With these color-packed picks, your garden design can embrace the creativity, energy, and enthusiasm of this decidedly hopeful hue.