Today we are diving deeper into Nature's Rx for Mental Wellness,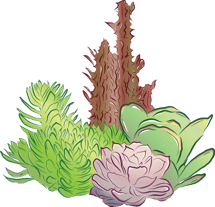 the theme for the 2018 Garden Trends Report.
With the constant changes in our climate. we need to keep in mind what we can do to help our gardens thrive.
When our ecosystems are stressed, we get stressed too. So, what can we do to help keep our gardens, and our minds, in shape?
Continue reading to find out what garden type you should try for your garden.
Climate Controlled
"We are in the unfortunate situation of being the first generation of gardeners, ever, who cannot rely on historical weather records to tell us what our climate is, or what to expect in the future."
David Wolfe, Department of Horticulture, Cornell University
With sixteen of the last seventeen years the warmest on record, it's no surprise that unpredictable climate conditions are challenging the way we garden.
And it's not just drought. We have seen intense rain, floods, hail, tornadoes, heat, and wildfires stressing our ecosystems.
Being able to prepare for your climate will do wonders on your garden. We broke climate conditions down into four garden types:
Gone with the Wind. High winds can damage and uproot plants and trees. Choose wind-resistant plants with flexible stems and narrow leaves. Plant large trees and shrubs as wind blocks to reduce the effect on your garden. Use i-Tree, a tool from Davey Tree, to help choose the right plants for the right spot.

Gardens that Rock.

Dry, arid gardens are essential for areas where drought conditions are evident. Opt for tall plants, such as acacia, mesquite and desert willow, that shade smaller plants. Costa Farms Desert Escape collection is perfect for dry climates. Cacti and succulent add interest and contours to the garden.
Don't Get Bogged Down. Damage by excessive rain, like drought, may not show for many seasons. Planting rain gardens can help improve drainage and recycle water for gardens benefit. Plant water resistant natives such as black chokeberry, meadowsweet shrubs, Joe-Pye weed, and Colorado blue spruce.
Ice, Ice Baby. Climates where temperatures drop below freezing need extra help. Freeze-Proof your garden with cold hardy trees, such as Douglas fir, spruce, birch and maples and plants such as hellebores, sedge and hosta.
Outdoor gardening not cutting it? Try indoor gardening! Whether that is on your kitchen counter or in a greenhouse in your yard, you will be able to control the climate that way, too!
Want to see what other trends are buzzing this year? Download our 2018 Garden Trends Report today!