Paperless billing practices, community recycling programs, and post-consumer paper products have saved countless trees.
That's something to get excited about!
We're not out of the proverbial woods yet, though. Over 4 million urban trees are lost each year, according to a study published in Urban Forestry & Urban Greening.
Revitalizing the tree canopy is important since trees provide a TON of benefits. Green consumers are in-tune to this, which makes planting trees a hot 2014 gardening trend.
Your gardening business can (and should) be the perfect place for garden customers to get started.
Keep reading to learn 3 ways you can capitalize on this scorching hot garden trend in 2014!
Real Trees Boost Real Estate
Photo Credit: Davey Tree
While the housing market has improved drastically in recent years, it's still a better time to buy than it is to sell.
Homeowners are looking for ways to increase the value of their homes and solidify their financial standing, too.
Help consumers embrace this tree trend by marketing and pitching trees as a way to boost curb appeal.
Trees have been shown to increase property values by 3-10%. Market this online and with in-store signage to make the connection as easy as possible for consumers to see.
Green customers will be blown away by the potential impact of adding a tree to their yard. Plus, your garden business will have gained a loyal brand ambassador in the process.
Pander to the Penny-Pinchers
Photo Credit: Davey Tree
Whether it's buying store brands or cutting the cable cord, people are always looking for ways to save.
Luckily, trees are amazing money savers.
Trees reduce energy costs significantly by providing shade and have even been shown to increase air-conditioner efficiency by up to 10%.
Your garden business can take hold of the tree trend in 2014 by positioning your gardening business as a place to save.
Emphasize the positive impact trees have on household expenses and watch as gardening business booms!
Cultivate Corporate Clients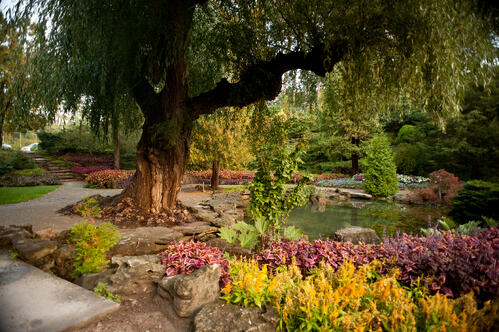 Photo Credit: Davey Tree
Corporate clients offer you a tree-mendous opportunity to build new relationships in your gardening business.
Trees create a thoughtful, productive environment for employees. Corporate think gardens are trending in 2014, and trees can be excellent additions to any corporate garden, large or small.
Additionally, being around trees makes people happier, and corporations benefit from this because happy employees miss fewer days of work!
Hone in on businesses or universities as new types of green consumers by capitalizing on the emotional and productivity benefits of trees.
Then, watch your garden business grow!
To Learn More about the Benefits of Trees and Other Top Garden Trends of 2014, Download the Whitepaper Below!