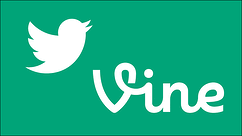 At Garden Media, we're all about the latest social media trends. So today, we're introducing you to our favorite new social media tool, Vine. We love Vine not only because it's a great name (c'mon, vines... gardening… get it?) but because it's a great tool that can help you market your business.
Launched 2 weeks ago by Twitter, Vine is a free app that lets you capture a six-second video.
But what can you capture in six seconds? A lot!
Vine only records when you touch the screen, so you can stitch together multiple segments. The best part about Vine is that it caters to our dwindling attention span – people don't have time to close your video before they've seen the whole thing, sometimes even watching it 3 or 4 times.
Recently, Vine has been referred to as the "Instagram for video," but, it isn't just another social network. The layout of Vine is similar to Instagram with followers, sharing options on Twitter, Facebook or Vine only, and users can like and comment on posts, but the marketing application is far greater. Videos tell us stories that photographs can't. Check out how Houseplant Guru is using Vine to teach her followers how to transplant African Violets:
Transplanting baby #Africanviolets grown from #leaves. #houseplant #nature #plants vine.co/v/bnMJnd37xxF

— Houseplant Guru (@HouseplantGuru) February 5, 2013
Other companies such as Dove, blogs like Design Sponge and Connect*Share*Grow are already taking advantage of this social media platform, so we suggest you jump on the social media bandwagon, too! Below are five effective ways to use Vine for your business:
1. Behind the Scenes
Social media is an effective tool because it gives us instantaneous results. So why not give your audience an even more instantaneous result with behind the scenes video clips with Vine? Show your customers what a day in the life is like in your company. Vine can help your customers know you on a more personal level. They'll see the faces behind the company, not just your brand.
2. How-To
Vine is a great app to create quick, how-to videos. Since Vine only records when you touch the screen, it's perfect for stitching segments together. Garden businesses can show viewers how to plant a bulb, sow seeds and other DIY gardening projects. Showing your customers how-to videos can demonstrate your expert knowledge and establish you as a leader within your industry.
3. Product Preview
It's exciting to get a first look at a product before it is released. So we suggest that you create a "teaser" Vine of your new product. Showcase your new product in a Vine and increase awareness. Be creative. Don't just record your product, record people actually using it! It's all about making people talk about your product and wanting to purchase it. Make the Vine fun and engaging.
4. Event Updates
Are you attending a conference, training session or corporate event? Take a Vine and upload it. Let your customers know that you are continuously educating yourself and staying experts in your field.
5. Entertain!
Vine doesn't have to be all business; show your customers that you can have fun too! Find ways to entertain your audience that are relevant to your brand.
You can download Vine from the App Store but it is currently only available on IOS devices such as the IPhone and IPad.
Have you tried Vine yet? What are some ways you have used it for your business? Let us know what you think!
And if you haven't joined Instagram yet, click on the image below to find out what you're missing.