What is it with monstrous storms near Halloween?! Last year, our only snow storm of the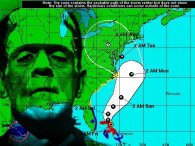 season fell on Halloween, and now, we're getting a hybrid wind, rain, and maybe snow storm. "Sandy Frankenstorm" (gotta love that name!) appears to be getting worse by the hour. This whirlwind storm is estimated to cause one billion dollars in damage and could be the worst storm to hit the northeast in 100 years!!
Yet, one company can teach you how to make the best of this bad, bad storm. Consolidated Edison Co. of New York used social media during Irene's vicious storm in 2011. The garden industry has to keep customers informed, especially in dire situations.
Let's learn from ConEd's triumph. Here's our guide to social media for garden businesses during "Sandy Frankenstorm" and future inclement situations that may or may not be related to the weather.
1. Go to the People
Just over fifty percent of Americans use smartphones. When in a crisis situation, traditional forms of communication are generally out of commission (landlines, telephones, and computer/internet access). But, smartphones allow internet access even in the worst weather conditions, and chances are people are sharing their unique storm experience on their social media networks. Companies should capitalize on this. The best way to get information out is to make it readily available where your audience is. Social media is the place to be in a crisis because people are going to rely on the power of their smartphones.
2. Curtail Rumors
In times of crisis, rumors spread rampantly. Often, customers don't have access to the correct information, so they assume the worse. Once word is out there and traveling, it will continue to multiply until the truth comes out. If your garden business uses social media, the truth can emerge within minutes of the rumor. Then, instead of false information spreading, your true word will go viral and get to the people you need to reach.
3. Spread Information--Quickly
Garden businesses can use the same information they provide to traditional media. Yet, when using social media, the information gets a personal touch—that's the benefit of having a personable, intelligent employee handle social media. It makes your brand likeable, reliable, and credible. ConEd, the electric company who handled Irene gracefully, used primarily Twitter and Youtube. They used Youtube to share storm prevention tips and let customers know when the power would be back up. Then, they used Twitter to blast these videos out there and respond personally to their customers' fears.
Let us know how well these tips work for you during this Frankenstorm!!
Until then, feel free to peruse our e-book about how to maximize your business with social media in any situation!