Thanksgiving is a time to reflect on the past year and give thanks to the people and things that prove inspiring to you.
Garden industry insiders are thankful for a lot of things: beautiful plants, loyal, quality brands and talented people who cultivate new ideas.
In honor of the upcoming holiday, here's a list of what we at Garden Media give thanks for every year.
Continue reading to learn what Garden PR Pros will give thanks to this Thanksgiving.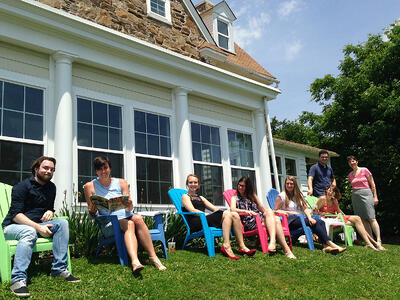 We Give Thanks
1. Clients – To put it simply, we love our clients and what they do. Each client presents the Garden Media team with a new opportunity to learn about different brands and help grow and maintain a base of loyal fans. Our work is never done until we exceed any and all expectations.
Because we represent a variety of people and products, we've had the privilege of working with talented teams who share the same love for the garden industry as we do. How many companies can say that?
In addition to working with great people, we get to promote brands – through different outlets like garden trade shows and social media – that help make a positive impact on the world. Clients inspire us to continue doing what we love to do, and for that, we are thankful.
2. Journalists, Bloggers and Writers – We pitch them. We correspond with them. We admire their work. We constantly read the news. We're thankful for the relationships we build with writers and the opportunities we have to work together. We're also thankful for the fantastic content that these people produce.
3. Garden Trends – Garden Media's annual trends report is a compilation of what industry insiders have been buzzing about all year. We're excited to continue the conversation next year with one comprehensive report filled with photos, statistics and some of our favorite products.
The trends report also gives us a sneak peek into the future of the industry. And that's exciting!
4. The Industry Landscape – The garden industry is comprised of an enthusiastic and diverse group of people. We're inspired by new trends, products and talented people.
Needless to say, it's a great time to garden. We look forward to seeing how the new consumers and the next generation of industry professionals take it to the next level.
5. Variety – Because no two campaigns are alike, each workday presents a new handful of challenges and projects. There's no one cookie cutter method to accomplishing a goal. This allows us to thrive in a creative office atmosphere where ideas are always blooming.
Plants take center stage in when it comes to variety as well. There's an infinite amount of plant species that cater to gardeners of all levels. What better way to personalize a space than with a garden?
6. YOU! - We're thankful for you, readers.
We've worked hard to develop GROW! Blog into the outlet it is today – and you've had a huge part in its success. We love creating and publishing content that relates to the garden industry, and you allow us to continue that every week.
Thanks for your continued support. And thanks for reading!
Read Garden Media Group's ebook to Learn more about Millennials and the future of the industry!